One App to Control your Debit Card.
Save time and gain peace of mind knowing you can control the card in your wallet on the phone in your pocket with our new CardValet® app.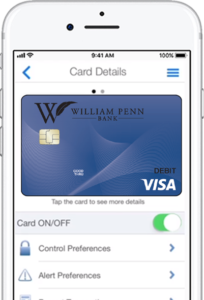 Control Spending
Spending limits or establishing thresholds by merchant type can be easily customized with the CardValet app. You can set limits on things like gas, groceries, retail stores, or even by location. Changing these parameters can be done at any time, so you can modify your controls for daily use, vacation time, or around the holidays to fit your spending needs.
Fraud Protection
Be even more proactive in protecting your debit card against fraud with controls that let you turn your debit card "off" when you are not using it. When your card is "off," no new withdrawals or purchases can be authorized. Take advantage of additional safeguarding features such as real-time alerts on your card activity and geographic parameters to limit where your card may be used.
Monitor Business Use
Control business spending on a debit card with CardValet. Use the transaction controls for merchant codes, location and thresholds to ensure employee spending adheres to your company policies.
Review Balances and Transactions
Monitor your finances from anywhere. Use the CardValet app to check your account balances and set alert preferences to keep you informed of your account activity.
Download CardValet Today!
To get started, download CardValet today on the Apple® App Store or Google Play® Store from your compatible mobile device.
Ready to enroll? Click Here for instructions.
*Data rates may apply. Check with your mobile phone carrier for details. Apple and the Apple logo are trademarks of Apple Inc., registered in the U.S. and other countries. App Store is a service mark of Apple Inc. Google Play is a trademark of Google Inc. © 2018 Fiserv, Inc. or its affiliates. CardValet is a registered trademark of Fiserv, Inc.
Features
Get real-time notifications when your card is used
Restrict transactions to a certain area using your phone's GPS.
Set spending limits for every transaction.
Set security preferences to match your spending habits for your debit card.
Enable or disable your card to be used within certain merchant categories such as gas and groceries, hotel and travel.
Lock and unlock your card with a few taps on your smartphone.
Frequently Asked Questions
When a card is lost, does the new card number need to be registered through the app? And how is the lost card number removed?
Administrator
2018-10-25T15:58:33-04:00
Yes. The new card number must be registered. The replacement card is added to the enrolled user's profile via Menu>Manage Portfolio>Add Card. The old card cannot be removed but rather the user can unmanage the card via Manage Portfolio.